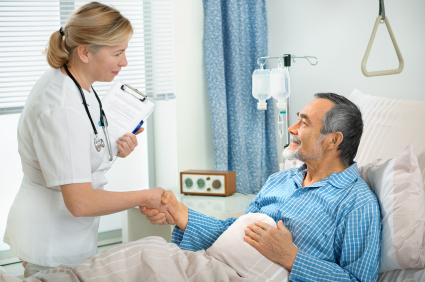 Admissions to all programs will be dependent not only on the care needs of the patient involved, but the total care demands of our existing cases.
Sudbury Pines Extended Care specializes in post-acute short-term rehabilitation. All subacute rehab programs are tailored to meet each patient's individual rehab needs.
Sudbury Pines Extended Care offers the following therapy services:
Physical Therapy (PT) – PT Services are provided to maximize a patient's ability to move within their environment. PT focuses on rehabilitation of the lower body, major muscle groups and gross motor functions.
Occupation Therapy (OT) – OT Services are provided to maximize a patient's ability to perform all Activities of Daily Living (ADL's), i.e., bathing, dressing, grooming, meal preparation, homemaking skills. OT focuses on rehabilitation of the upper body and fine motor functions.
Speech Therapy (ST) – ST Services are provided to maximize a patient's ability to effectively communicate with others. ST also provides services to address swallowing issues in order to maximize a patient's ability to safely manage food and/or liquids.
Sudbury Pines Extended Care provides rehabilitation services to patients recovering from neurological, cardiopulmonary, oncological, medical, surgical, and orthopedic conditions. All patients receive individualized therapy sessions either at bedside or in our rehab gym which has over 900 square feet of space. The gym has two large ADL training areas, one for bathroom transfer training and the other for kitchen mobility and meal preparation training.
The Gym is equipped with the following high-tech exercise equipment:
Computerized treadmills
Stationary exercise bicycles
Ergometers equipped with cardiovascular monitoring system
Other standard equipment includes:
Parallel bars
Treatment plinths
Free-weight systems
Sudbury Pines Extended Care offers the following rehab programs:
Stroke/Neuro Rehab Programs
Cardiac Rehab Programs
Pulmonary Rehab Programs
Orthopedic Rehab Programs
Oncology Rehab Programs
Medically Complex Rehab Programs
Infusion Therapy (IV Therapy-Peripheral and Central Line) Programs
Sudbury Pines provides services to patients who are coping with:
Congestive Heart Failure-CHF,
Fractures
Head injuries
Post CABG surgeries
Wound Care needing Specialized Beds – WOUND AND PAIN SPECIALIST PHYSICIAN CONSULTANT
Total Joint Replacement
Pain Management
Parkinsons Disease
Myocardial Infarction (MI)
Arthritis
Vascular Surgery
Hypertension
Lung Disease including COPD, Chronic Bronchitis, Emphysema, Asthma
Diabetes Mellitus
Complex Medical Conditions
Tracheostomy
Thyroid Disease
Pulmonary Hypertension
Osteoporosis
General Deconditioning
Pneumonia
Infections-UTIs and Upper  Respiratory Infections
Bariatric Care
Sudbury Pines Team of Physical and Occupational Rehabilitative Specialists focus on the following techniques:
Transfer Training
ADL Assessment/Training
Functional Mobility
Adaptive Equipment Assessment/Training
Caregiver Training
Balance Assessment and Treatment
Splinting and Positioning
Joint Mobilization
Electrical Muscle Stimulation (E STIM)
Whirlpool Hydrotherapy
Gait Training
Visual and Perceptual Assessment/Training
Medication Monitoring/Compliance/Teaching
Neuromuscular Retraining
Wheelchair Assessment/Seating Assessment
Progressive Resistive Exercise Programs
Patient safety/Home Safety Evaluation
Patient/Caregiver Disease management Education/Training
Sudbury Pines Team of Speech and Language Pathologists  focus on the following techniques:
Swallowing evaluations (Modified Barium Swallows [MBS] can be done on site) to prevent Aspiration of Food/Fluid

Evaluation/Treatment of Reading/Writing Disorder

Augmentative Communications

Language Facilitation Techniques

Restorative Feeding Program

Dietary Consultation

Caregiver Training

Compensatory Strategies for Speech Intelligibility

Hearing Evaluations

Cognitive Retraining
Sudbury Pines Extended Care rehabilitation programs are tailored to meet each patient's individual rehab needs and utilize an interdisciplinary approach. Members of the Interdisciplinary Rehab Team meet weekly to monitor each patient's progress.
The Interdisciplinary Team at Sudbury Pines Extended Care consists of the following members:
Patient
Patient's family
Physical/Occupational/Speech Therapists/Rehab Aides
Physicians
Physician Assistant (on-site)
Case Management
Social Workers
Licensed Nurses (RN/LPN)
Activities/Recreational personnel
Other professionals referred for on-site consultative services: Dietician, Endocrine, Neurologic, Urologic, Psychiatric, & Vascular/Wound.Atea
Attending Physicians and Consultants and weekly Interdisciplinary Team Meetings, attended by members of the Interdisciplinary Team, monitor patient progress. Patients and families are an integral part of this team and are invited to attend any and all of our Care Plan Meetings.
Exclusion to Scope of Service: Active detoxification/treatment, active Tuberculosis, acute Psychotic behaviors which would endanger patient or others, ventilators, intravenous medication pushes, patients under the age of 18 (with some variance to be determined on a case by case basis), and in house dialysis.